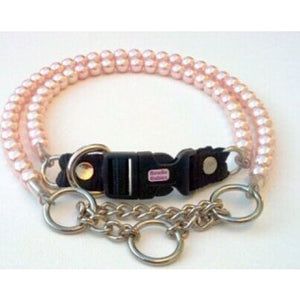 These funky collars are handmade with your dogs safety and comfort in mind.
Select from 3 different styles: Buckle, Slip on and Martingale. Waterproof and stink proof.These adorable collars have a tensile strength of 300 lbs ( made with a light steel cable attached with crimped aluminum sleeves...virtually indestructible) These comfortable, massaging action collars will not tangle or ruin coats.

The slip on style is recommended for collars under 10"
If you do not see your size in the drop down menu, please choose "custom size" and write your size in the notes to seller

SIZING INSTRUCTIONS

1. If ordering a Slip on or martingale style, Please measure snug around the widest part of your pet's head and choose that as your measurement.* If your pet's neck is larger than their head, continue with below instructions 

2. Use a cloth tape measure and wrap it perpendicular around the middle of your pet's neck. NOT directly behind your pet's ears, and NOT at the very base of the neck near the shoulders. Right in the middle.

3. If you do not have a cloth tape measure, use a piece of string and hold your finger to where the ends meet around your pet's neck. Then place it along side a regular tape measure.

4. Wrap the cloth tape measure (or string) exactly around your pet's neck. Do not cut off his circulation, but fit it exactly.

5. Do not allow for "slack" when measuring your pet's head or neck. We are going to make the collar big enough as long as you provide us a proper measurement. :)

Please do not measure your pet's old collar. Measuring your pet's old collar is not going to give us an accurate measurement, but if this is the easiest option for you, please measure the INNER circumference not the length.
All collars are handmade, custom to order. 

Thank you so much for checking out our unique collars! ❤